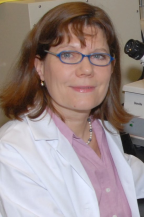 Acting Chair of Biochemistry, Professor & Acting Chair of Cell & Developmental Biology
Affiliated Graduate Program :
The Stuhlmann lab studies basic developmental biology of the the vascular system. A combination of molecular and genetic approaches including primary endothelial cells, embryonic stem cells, trophoblast stem cells, and loss- and gain-of-function mouse models are employed for these studies. A second research area is on the pathways and epigenetic mechanisms that drive placental development and disease such as preeclampsia. A recent focus has been on the impact of virus infections including ZIKA and SARS-CoV-2 on pregnancy and placentation.